Grab your lime and your mint and let's make this delicious Easter mojito that is a great twist on the classic Cuban cocktail!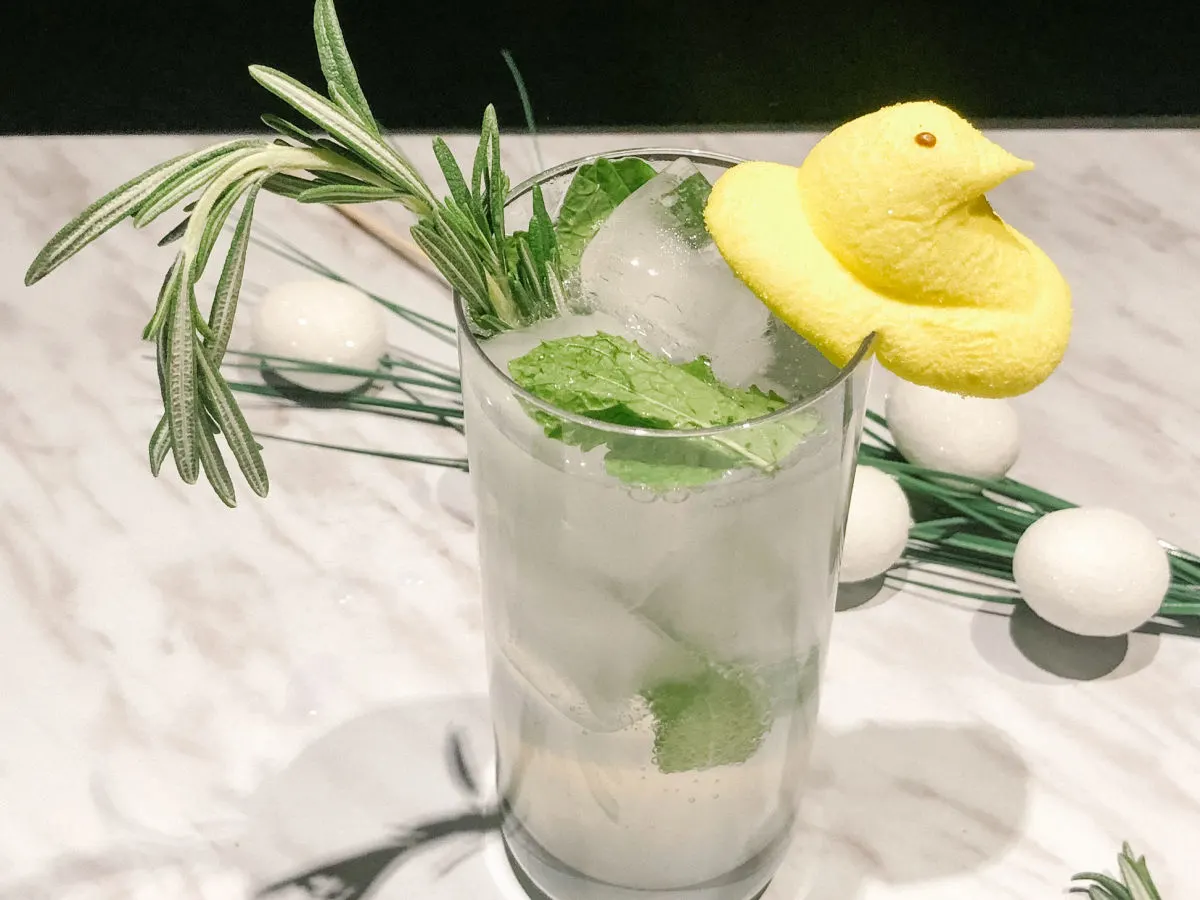 This post contains affiliate links. Please read my Disclosure for more information
RELATED POSTS
Easter Bunny Cocktail – Baileys Easter Egg Cocktail
The Cutest Cottontail Cocktail For Easter – The Cottontail Martini
Need a fantastic Easter cocktail? Look no further than this Peeps Easter Mojito recipe!
Mojitos are a traditional cocktail that are popular with almost everyone.
The great thing about this versatile drink is that you can make all different kinds from a Raspberry Mojito to a more extravagant Champagne Mojito.
In fact, it's one of the greatest cocktails of all time, in our opinion!
Substitute lemon vodka instead of the classic rum and the delicately sweet flavor is simply outstanding.
The first time we sipped on this one, we fell in love! Here's how to make it.
Easter Mojito Ingredients
The classic mojito is made with white rum, mint, simple syrup and lime plus Club Soda.
Our version stays true to the original definition, with a few tweaks to make it refreshing and perfect for spring.
The ingredients for making an Easter Mojito are simple!
Here's what you'll need for this Peeps Cocktail:
Lemon Rum
Lime Juice
Simple syrup infused with rosemary
Soda Water
Mint Leaves
Of course, the classic mojito uses plain white rum but in this version we decided to use Bacardi Limon.
We have using this fun version of regular rum in cocktails because it is made with all natural flavours.
More variations: If you don't have lemon rum, you can use plain white rum and add an extra squirt of lemon juice to your cocktail.
You can also use plain simple syrup instead of the rosemary one.
Equipment Needed To Make A Mojito
The only tool you'll need to make this cocktail:
If you don't have a muddler, you can get by with the wrong end of a wooden spoon but a muddler does make things much easier and they are pretty inexpensive.
How To Make The Peeps Mojito
Step 1:Muddle the ingredients
Muddle the mint, lime and simple sugar in a glass using a muddler
Step 2: Add the Alcohol
Add rum and ice to the glass
Step 3: Top with soda water
You can also try using lemon or lime flavored soda if preferred. In this case cut back on the simple syrup otherwise your drink will be too sweet.
Step 4: Stir and serve
How To Garnish Your Easter Mojito
It's all about the garnish! I topped off my Easter cocktail with a cute Peeps chick and a sprig of rosemary to make it look more festive!
Tips For Making The Perfect Mojito
So this Easter mojito recipe is so simple and easy to toss together that you don't need many tips.
Firstly, I LOVE using fresh lime juice in my mojitos but if you don't have any on hand you can use bottled lime juice too.
Muddling your mint is the essential step in this cocktail (and any mojito) so don't rush. Muddling helps release the mint oil from the leaves and gives you the wonderful flavor.
This Easter Mojito recipe is…
Simple to make and perfect for spring. It is vegan, gluten-free and dairy-free.
Refreshing and light, this lemon mojito is perfect for Easter. You will love this twist on the classic Cuban mojito that is great for any occasion.
Ingredients
2 oz Barcardi Limon
1/2 oz Rosemary Simple Syrup
5 Fresh Mint Leaves
Soda Water
1/2 Lime, freshly squeezed
1 Peeps Chick for Garnish
1 Sprig of rosemary for garnish
Instructions
Muddle the mint leaves, simple syrup and lime in a glass
Add the rum
Top with soda water and stir
Notes
You can use regular white rum instead of the Barcardi Limon
Simple Syrup is also fine instead of the rosemary if you want to switch it up
Looking for more easy cocktail recipes?
Looking beyond the mojito, here are some of our most popular cocktails