If you love fruity blue drinks then the Blue Hawaiian cocktail is sure to be a hit!
Nothing says vacation like the aqua blue of the ocean and of course, Hawaii is one of the best places to visit.
The Blue Hawaiian is perfect for sipping poolside!
It's also the sister of our Green Hawaiian cocktail for obvious reasons!
If you love blue cocktails don't miss our other hits like the Blue Lagoon and the popular Ocean Breeze Drink that I request all the time at home.
Don't want alcohol in your summer cocktail? Never fear, we have a mocktail Blue Hawaiian too!
Read on for the recipe of both the Blue Lagoon Cocktail and the alcohol-free version.
This post contains affiliate links. Please read my Disclosure for more information.
MORE TROPICAL COCKTAILS
What Is The Difference Between A Blue Hawaiian and A Blue Hawaii Cocktail?
You may have heard of both the Blue Hawaiian and the Blue Hawaii cocktails.
In fact, they are two different drinks but only ever-so-slightly.
The Blue Hawaiian uses coconut cream while the Blue Hawaii is a slightly lighter drink as the recipe calls for sweet and sour mix instead.
Blue Hawaiian Cocktail Ingredients
The ingredients for this cocktail are pretty simple and you can easily double the recipe to make more drinks for two or more people.
What alcohol is in a Blue Hawaiian cocktail?
The alcohol in this delicious blue cocktail is rum.
It's one of the many tropical rum cocktails such as the Blue Memories and of course, the classic Malibu Rum Punch Recipe.
The blue colour comes from the Blue Curacao in the drink and that also contains alcohol so this drink does pack a punch.
As far as special equipment, you only need a cocktail shaker.
For the full recipe and a printable instruction sheet, scroll to the bottom of this page.
To make this deliciously tropical cocktail, you will need:
Blue Curacao
Light rum
Coconut cream
4 oz. pineapple juice
1 wedge of pineapple
1 maraschino cherry
Ice
How To Make A Blue Hawaiian Cocktail
This drink is really easy to make and all you need is a cocktail shaker or mason jar to mix the ingredients.
In a shaker, add in ice, coconut cream, pineapple juice, light rum, and Blue Curacao. Shake well.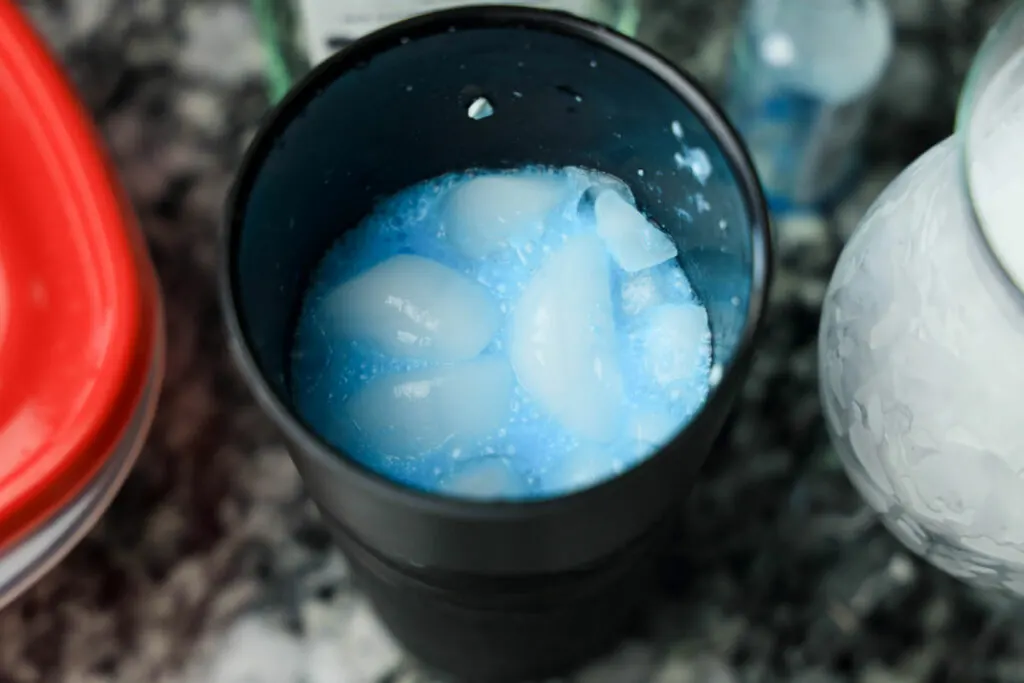 Pour into a glass with crushed iced.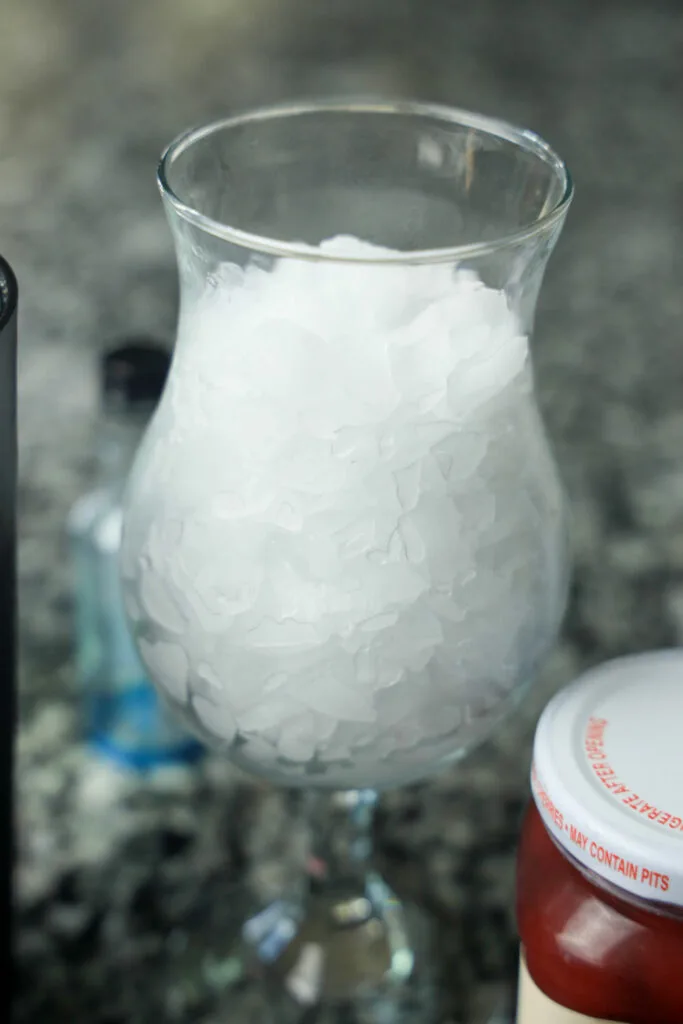 Top with a wedge of pineapple and a maraschino cherry.
How To Make A Blue Hawaiian Mocktail
If you want to make the Blue Hawaiian into a mocktail, it is pretty easy.
First of all you can omit the rum and then substitute the Blue Curacao for a Blue Curacao syrup that does not contain alcohol.
I like the one made by Torani.
Bear in mind that the non-alcoholic syrup is much sweeter than original Blue Curacao so you need a lot less (try a splash and go from there).
Keep the other ingredients the same without the rum.
Yield:

1
Blue Hawaiian Cocktail
Vacatio is calling! Get ready for the summer sun with this delicious Blue Hawaiian cocktail. It's easily made into a mocktail too!
Ingredients
2 oz Light Rum
2 oz Blue Curacao
4 oz Pineapple Juice
1 oz Coconut Cream
1 slice of pineapple and maraschino cherries for garnish
Instructions
Combine the rum, Blue Curacao, pineapple juice and coconut cream in a cocktail shaker
Pour over crushed ice
Garnish with a slice of pineapple and a maraschino cherry
Notes
To make this a Blue Hawaiian Mocktail, omit the rum and use Blue Curacao non-alcoholic syrup instead.
You can double or triple the recipe as needed to make more cocktails
More Blue Cocktail Recipes
Blue Memories: Blue Rum Punch Recipe
Blue Mojito Recipe – Blue Curacao Mojito Cocktail