There are few things more refreshing on a hot day than an easy cocktail. One of our favorites is this Clover Club cocktail with fresh raspberries to add some sweetness.
A Clover Club cocktail is a refreshing drink made from gin, lemon juice, raspberry syrup, and egg whites.
The raspberries in this recipe make it extra special by adding a delicious fruity flavor that pairs well with the tartness of the lemon juice and sweetness of the raspberry syrup.
This classic cocktail is perfect for summer sipping or as an accompaniment to brunch! The red color also makes it a really popular choice around the holidays too. This truly is a cocktail for all seasons!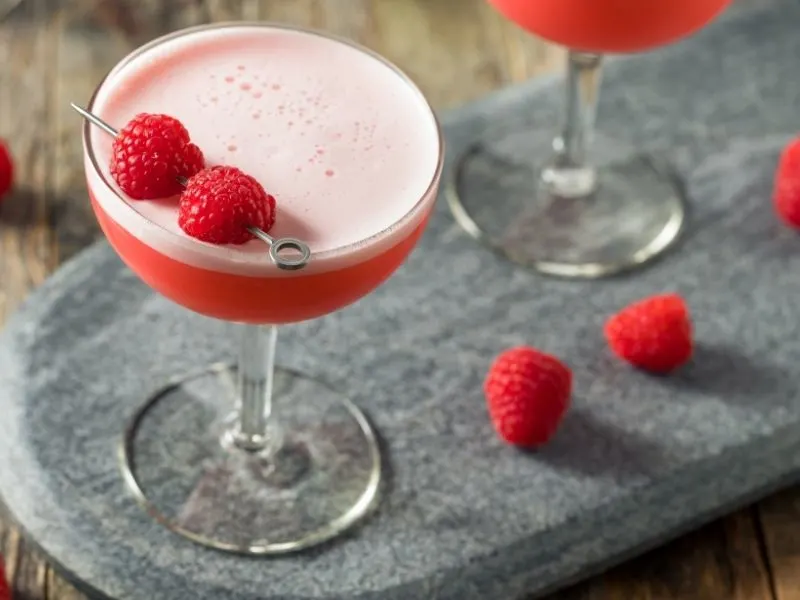 This post contains affiliate links. Please read my Disclosure for more information
MORE GIN COCKTAILS
Unicorn Cocktail – Pink Gin Cocktail Recipe
What Is In A Clover Club?
The Clover Club is an American cocktail that consists of gin, lemon juice, simple syrup, and an egg white.
Egg white always seems a weird thing to put in a cocktail but it is common in lots of drinks, especially whiskey sour cocktails.
The egg white doesn't change the flavor of the drink, it is simply an emulsifier.
The reason for including it in the recipe is to add a nice foam top to the Clover Club.
Why Is It Called A Clover Club?
The Clover Club Cocktail can be traced back to pre-Prohibition-era America, but it was likely created in the early 1900s. It is named after a now-defunct gentlemen's club called "The Clover".
The group of men would meet once a month at the club to discuss high brow interests in the literacy, financial and cultural worlds. Legend has it that that is when The Clover Club was born.
It was first mentioned in 1901 in the New York Press with a recipe and that is when it started to be known outside of Philly.
The popularity of the Clover Club cocktail waned throughout the 20th century but like other frothy drinks such as sours, it is making a come-back.
If you haven't tried a Clover club cocktail with fresh raspberries, you are in for a treat.
This is a fruity, refreshing cocktail that is always a hit at parties.
Clover Club Recipe
Producing a cocktail at home is an art form that can produce great results.
One of the simplest cocktails to make is the Clover Club with Fresh Raspberries, but it takes finesse and precision to recreate this elegant drink.
The Clover Club Cocktail uses fresh raspberries and simple sugar syrup (water and sugar) but if you prefer, you can use raspberry syrup.
You should be able to find it at most gourmet grocery stores. If not, there are a few options on Amazon.
The Ingredients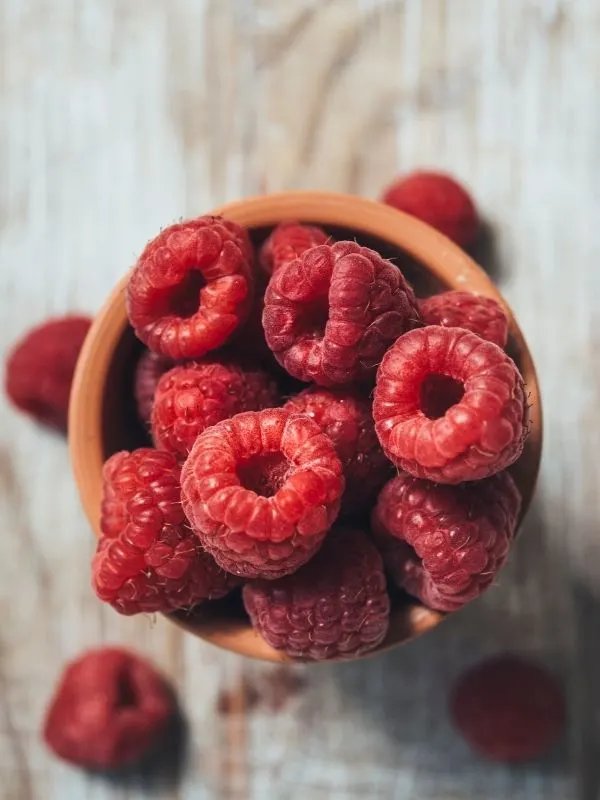 The Clover Club Cocktail is a drink with a delicate balance of sweet and tart flavors.
The drink is made with gin, lemon juice, simple syrup, fresh raspberries and egg white.
A generous amount of fresh raspberries can also be added to the mixture. I typically garnish my Clover Club cocktails with more fresh raspberries too.
How To Make A Clover Club Cocktail
You will need a cocktail shaker, a jigger and a strainer to make the Clover club. I like to make my Clover club cocktail with muddled raspberries so I use a muddler too.
If you don't have these tools, don't fear. You can use a mason jar instead of a shaker and then the opposite end of a wooden spoon as a muddler. Strain the cocktail using the mason jar lid.
I serve my Clover Club with fresh raspberries in a traditional coupe glass.
Step 1
Put your fresh raspberries, simple syurp and lemon juice into a cocktail shaker and muddle at the bottom of the container.
Step 2
Add the gin into your cocktail shaker without ice. Add the egg white in last. Dry shake for at least 20 seconds.
Step 2
Add ice to your cocktail shaker and shake for another 30 seconds.
Step 3
Strain the drink into your coupe glass and garnish with fresh raspberries. Serve immediately.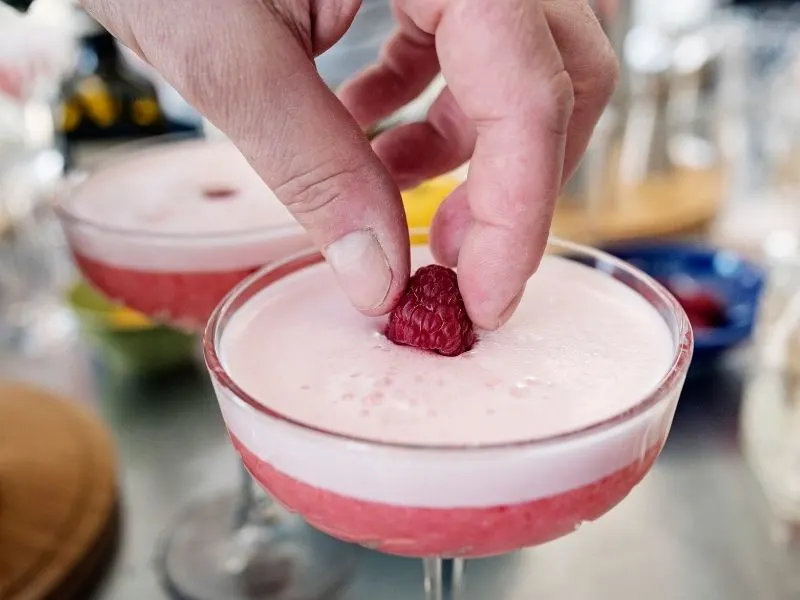 When making a Clover Club why is important that the egg white is the last ingredient added to the shaker?
The key to adding the egg white in last is the "dry shake" that is the most important part of the Clover Cocktail recipe.
The term "dry shake" is one of the most confusing terms in the cocktail world.
It specifically refers to shaking an un-chilled drink with alcoholic ingredients, but not adding ice.
The point of doing this is to avoid cloudiness and chunks in your mixed drink, especially if it includes eggs, which will quickly emulsify when cold.
Can You Make A Clover Club Cocktail Without Eggs?
You can still get the nice foamy look of the Clover Club cocktail with fresh raspberries without using egg whites.
An alternative to dry shaking with eggs is to use aquafaba (the liquid you find in a can of chickpeas).
A vegan dry shake is when you add the liquid from a can of chickpeas to your shaker and shake it vigorously for a minute in order to thicken the liquid. 1 ounce of aquafaba is normally equivalent to 1/2 oz egg white.
This will give you creamy texture without any dairy ingredients in your recipe.
Can I use frozen raspberries or a different berry in the Clover Club Cocktail?
Although fresh raspberries are the gold standard, we all know that they are very expensive out of season and, frankly, don't last long once in the fridge.
You can definitely use frozen, thawed raspberries in lieu of fresh berries in your Clover Club.
Another variation of the cocktail is to use grenadine or even cranberries instead of the raspberries but I would stick to the original recipe if possible for the perfect mix of tart and sweet.
Clover Club Cocktail With Fresh Raspberries
There are many delicious cocktails to enjoy during the summer, but what could be better than a nice refreshing drink that is both sweet and sour?
The classic Clover Club cocktail with fresh raspberries is exactly that.
The freshness of raspberry brings out citrus flavors in gin and creates a drink that is bright, tart, and delightfully refreshing. These qualities make this cocktail perfect for summer days on the patio with friends.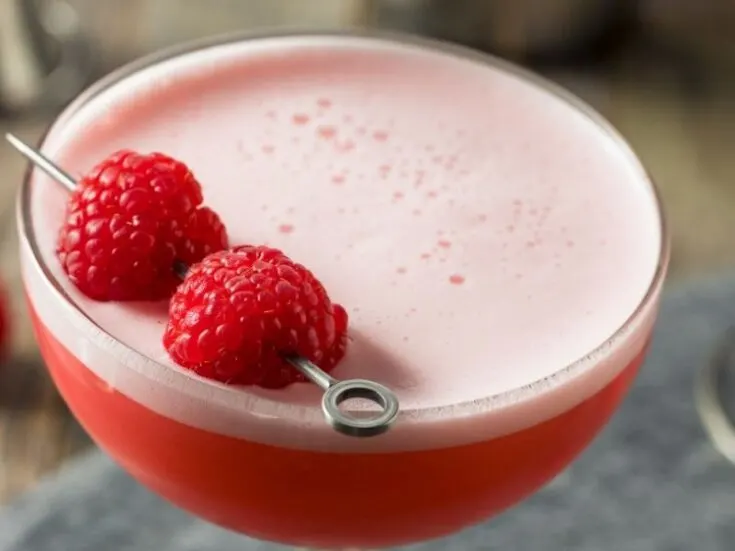 Yield:

1
Clover Club Cocktail With Fresh Raspberries
The Clover Club Cocktail is a drink with a delicate balance of sweet and tart flavors and fresh raspberries make it extra special.
Ingredients
2 oz Gin
4 Fresh Raspberries (plus extras for the garnish)
3/4 oz simple syrup or raspberry syrup
3/4 oz lemon juice
1 egg white (1.5 oz)
Instructions
Start by muddling your raspberries, simple syrup and lemon juice at the bottom of a cocktail shaker or mason jar
Add in the gin and finally the egg white. Shake for 20 seconds
Now add ice int the cocktail shaker and shake for a further 30 seconds
Strain into a coupe glass
Garnish with fresh raspberries and serve immediately.
Notes
Make your own simple syrup by boiling water and sugar together until the sugar has dissolved. Allow to cool before using.
You can substitute in frozen raspberries if needed
Grenadine or Raspberry syrup can be used instead of the simple syrup.
More Pink Cocktail Recipes
48 Pretty Pink Bridal Shower Drinks
Unicorn Cocktail – Pink Gin Cocktail Recipe