Are you looking for the best and most unique New Years shots for your New Year's Eve party?
If so, this blog post is the right place to be.
We have compiled a list of some fun and interesting recipes that are perfect for ringing in the new year.
From jello shots to coffee liqueur shots, there are many different options available here!
So pour yourself a glass and get ready to celebrate with these tasty treats. Cheers!
CHAMPAGNE COCKTAILS FOR RINGING IN THE NEW YEAR
The Best Holiday Cocktails With Champagne
Strawberry Prosecco Cocktail (Rossini Cocktail)
12 New Years Shots To Impress Your Guests
New year's eve is one of the most fun nights of the year.
Everyone has a good time ringing in the new year, and with these ten delicious new years shot recipes you can guarantee that everyone will have a blast!
Whether you're looking for some unique ideas to try out or just want something tasty to drink while celebrating, this list is sure to help.
New Years Shots Made With Jello
Jello Shots are a mainstay of lots of parties but for New Years, you want to think beyond the typical vodka jello shots and go big with Champagne, Prosecco and impressive colors and layers.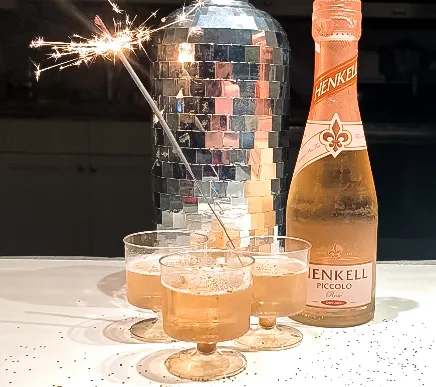 Nothing says New Years more than champagne so why not sure some fun sparkling Jello shots that sparkle with glittter?
The best thing about these pink champagne jello shots is that they can be made ahead and served the next day.
If you are a fan of Mimosas then you will love these delicious Mimosa jello shots made with sparkling wine and cranberry juice.
Ok so candy canes are typically for Christmas bu new Years is still the holidays and these red and white peppermint jello shots are just too cute to not serve!
Fun New Years Shot That Everyone Loves
The names of these shots might be a little bit out there but these are always popular New Years shots and should be on everyone's party drinks menu.
We're not going to discuss why this shot is called the Blow Job, after all, we are all over 21 on this site but I will tell you that this Bailey's shot is one of the most popular New years shots to serve your guests.
The Slippery Nipple is another really fun shot that always gets a laugh at parties when hosts bring it out. The irony is, it tastes really good too!
The fact that this shot is also called a "brain damage shot" says it all really. While you might be turned off by the weird appearance, this drink is surprisingly tasty.
The Scooby snack shot can be made in two different shades of green as you can see above.
Just be careful not to serve too many of these fun shots at your New Years parties or your guests will be turning their own shade of green!
Impressive New Years Shots
If you are looking to wow everyone at your next party, the following shots are perfect. Impressive and exciting, they are the kinds of shots that everyone wants to try.
The Mexican candy shot really packs a punch and is perfect if you are ready to take your New Years fiesta to the next level.
Vegas bombs are awesome for when you really want to wow your invitees with a bit of a show.
Watch the alcohol mix as you drop the shot glass into the whiskey.
The cherry bomb shot tastes amazing and is really easy to make. It's always a hit with the party crowd.
This is one of those New Years shots that most people haven't heard of. It's called a Snake bite because it really does have a bite to it!
A great one for celebrating with friends at a New Years party or night out.
The Best Shot Recipes For New Year's Eve
Whether you are hosting a party or going out to celebrate the new year, having fun and delicious drinks is always a plus.
These shot recipes will help ensure that your guests have a blast this New Year's Eve! What's your favorite?
If you want to celebrate with Champagne this New Years, make sure to check out these cocktails:
Sparkling Cranberry Prosecco Cocktail
Peppermint Mimosa {Peppermint Bark Cocktail)