With a tasty mix of white chocolate and vanilla, this delicious White Christmas Shot is quick and easy to make. Perfect for an Christmas treat, this decadent shot is sure to be a hit at your next holiday party.
This post contains affiliate links. Please read my Disclosure for more information.
MORE FESTIVE SHOT RECIPES
Do you love chocolate? If so you will love this delicious white chocolate shot that is creamy and perfect for the holidays.
I am a huge fan of white chocolate and this shot is the perfect mix of sweet and creamy for me.
If you love decadent shots such as the Slippery Nipple, you will find this shot one of the easiest to drink. Not only is it super simple to make but it looks impressive when served to guests too.
Plus, as it is not one of the most well-known shots, it will give you a little bit of mixologist clout too.
This cocktail is perfect for the holidays, or any time you're in the mood for something festive and fun.
This White Christmas Shot recipe is:
Quick and Easy to make
Perfect for Christmas
Festive
Creamy and dessert-like
White Christmas Shot Ingredients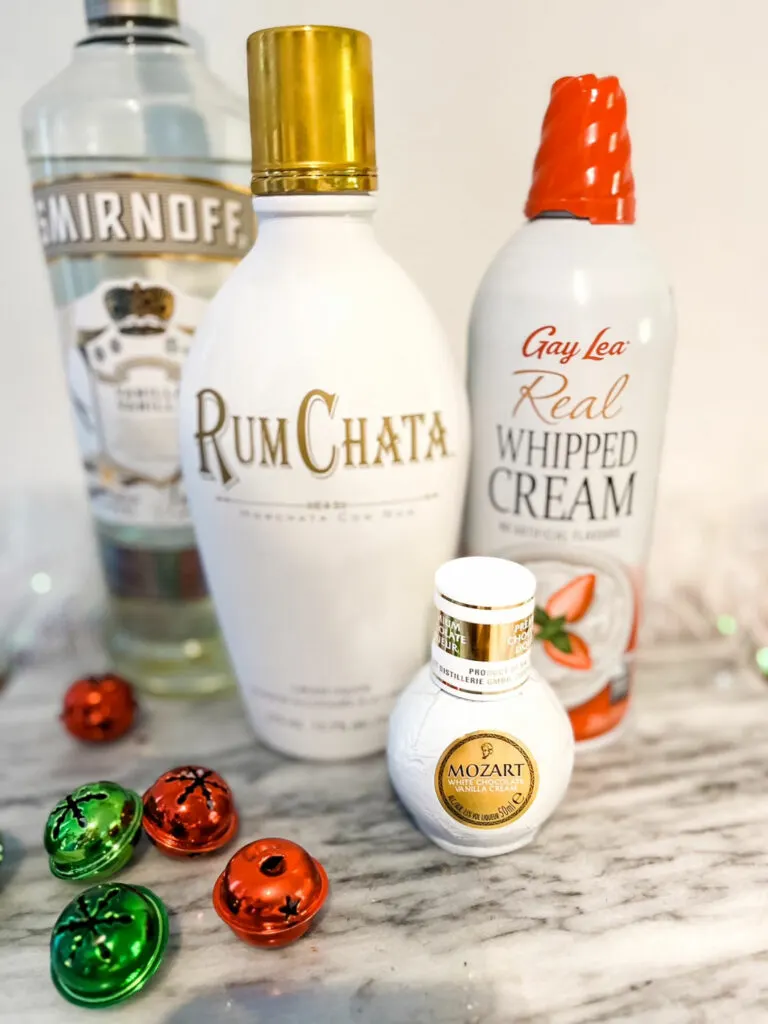 A White Christmas shot is the perfect way to celebrate the holidays. This delightful cocktail is made with vodka, white chocolate liqueur and Rumchata.
Its decadent creamy flavor will leave you feeling all the joys of Christmas.
If you are looking for more White Christmas themed cocktails, make sure to check out my White Christmas Mojito and White Christmas Martini too!
This recipe makes 5-6 shots of this drink.
For full step-by-step instructions, scroll down to our recipe card at the bottom of the page.
Here are the ingredients you will need to make this shot:
Rumchata
Vanilla Vodka
White Chocolate Liqueur
Whipped Cream
Holiday sprinkles
The great thing about this shot is all you need are shot glasses and a steady hand. No cocktail mixer or blender are required.
I use a bartender spoon to help with this part of the pouring process but you can use a teaspoon and some even use the side of a butter knife.
If you don't have vanilla vodka, you can use plain vodka and a dash of vanilla syrup or just plain vodka on its own.
What Is Rumchata?
Rumchata is a sweet, creamy liqueur made with rum, cream, and cinnamon. It's often used in cocktails and desserts, and it's a popular choice for holiday parties.
How To Make A White Christmas Shot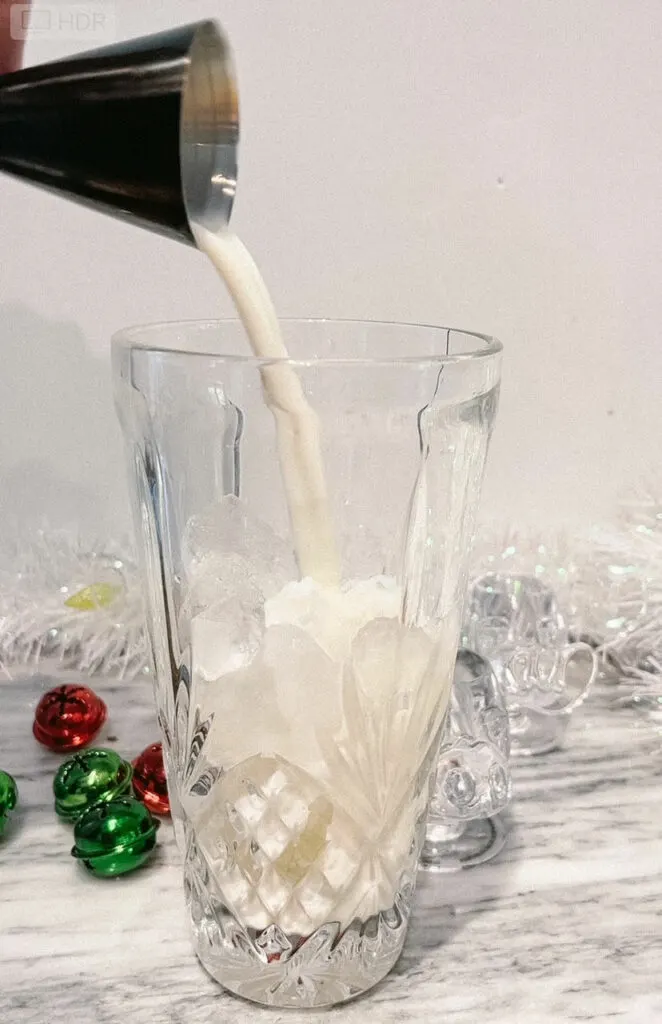 Step 1:Mix the Ingredients
Add all the ingredients into a cocktail shaker with ice. Shake well for 15 seconds.
Step 2: Pour into a shot glass
Carefully pour your drink into shot glasses.
Step 3: Garnish your drink
Top the shots with whipped cream and holiday sprinkles, serve immediately.
How To Garnish Your White Chocolate Shot
As you can see from the photos, I went simple and garnished my glass with a squirt of whipped cream and some sprinkles. You could also use a candy cane or crushed candy cane sprinkles too.
Yield:

6
White Christmas Shot
This delicious White Chocolate shot recipe makes 6 decadent holiday shots. It makes a quick and easy drink to serve to guests at your next holiday party.
Ingredients
2 oz White Chocolate Liqueur
2 oz Rumchata
2 oz Vanilla Vodka
3/4 cup of ice
Whipped Cream
Holiday Sprinkles
Instructions
In a shaker, add in ice and all the ingredients. Shake well.
Pour shaker mixture into your shot glass.
Top with whipped cream and holiday sprinkles. Serve immediately.
Notes
You can use vanilla vodka or plain vodka to suit.
If you don't have Rumchata, you can use heavy cream and a dash of cinnamon instead.
Want More Christmas Cocktails?
12 Festive Christmas Brunch Cocktails