The rusty nail cocktail is one of those cocktails that is super simple but not that well known.
A rusty nail would be considered a classic Scotch drink. Classic Scotch drinks are some of the most popular drinks in the world.
There are many different versions of Scotch drinks, but they all have a common goal: to provide a flavorful and refreshing drink that can be enjoyed by anyone.
One of my favorite Scotch drinks is a Rusty Nail and one that you should try as it is simple and very easy to make.
This post contains affiliate links. Please read my Disclosure for more information.
RELATED POSTS
Why you'll love a Rusty Nail Cocktail
A Rusty Nail is:
Easy to make
Strong drink
Looks good
A nice change from straight Scotch
Nice to sit back and relax with
What is in a Rusty Nail?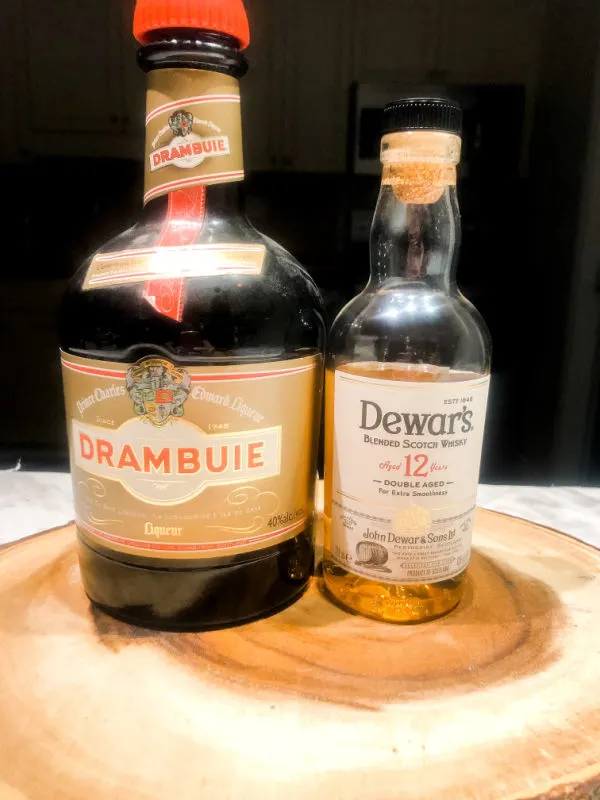 In this classic cocktail, there are 2 ingredients, Drambuie and Scotch.
Drambuie is a unique and complex liquor.
It is made from Scotch whisky, honey, and spices. The flavor is pronounced and unique, making it a popular choice for cocktails and is a key ingredient in this drink.
Scotch is a liquor that originates from Scotland. It is usually made from malted barley and water.
The whisky is then distilled and aged in oak barrels. Scotch can be enjoyed neat, on the rocks, or in a mixed drink.
There are so many different types of Scotches, each with their own unique and special flavors. I personally like to use Dewar's blended Scotch when I make a Rusty Nail.
A great product from John Dewar & Sons from Perthshire Scotland, it creates the triple combination of a nice looking, excellent smelling and most importantly, great tasting cocktail.
How To Make a Rusty Nail Cocktail
Ready for a nice relaxing night and needing a drink that you can sip and enjoy. Look no further than a Rusty Nail. Here is how you make this classic cocktail.
Step 1: Get all set up
All you need to get setup is find your favorite whiskey glass and fill with ice.
Step 2: Add ingredients
First pour the Scotch followed up by the Drambuie
Step 3: Garnish and Serve
Add a twist of lemon and you are ready to go.
How To Make A Lemon Twist
It's easy to make this impressive garnish. Just use a knife to take off a slice of lemon rind from a fresh lemon then twist is around your finger until is it curly.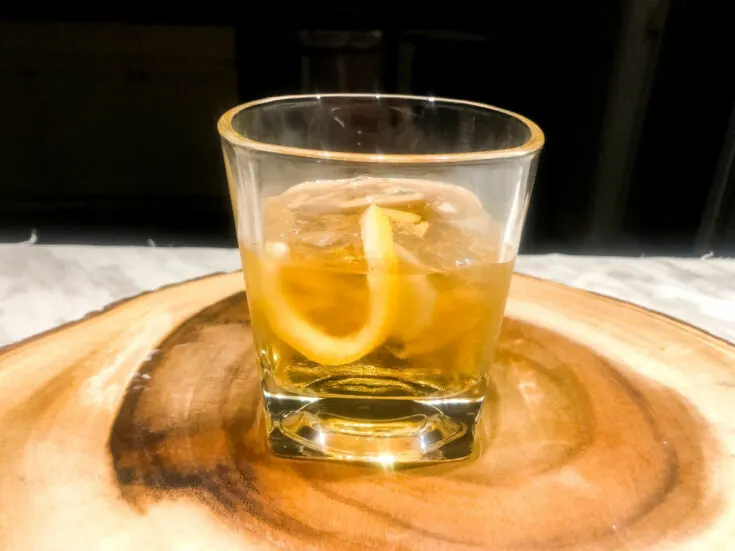 Yield:

1
Rusty Nail Cocktail
Additional Time:
1 minute
The Rusty Nail is a classic mixed Scotch cocktail that is perfect for any occasion.
Whether you are celebrating a special event or just want to relax with a nice drink, this is the perfect option. Be sure to give it a try!
Ingredients
2 oz of Scotch
2/3 oz of Drambuie
* twist of lemon
Instructions
1. Fill a whiskey glass with ice
2. First add the Scotch then add the Drambuie
3. Twist of lemon and serve
Notes
I like to use Dewar's Scotch. Feel free to try your personal favorite and see if it becomes your favorite.
Want More Classic Recipes?
How To Make The Perfect Rum and Coke (Cuba Libre)