This Tequila Sunrise recipe is a timeless classic that deserves a place in every cocktail enthusiast's repertoire.
With its striking appearance and fantastic taste, it's a drink that is sure to be a hit at your next beach party!
This post may contain affiliate links. Please read my Disclosure for more information
MORE TEQUILA COCKTAILS
Easy Coconut Rum and Tequila Margarita
Tequila And Peach Schnapps Cocktail
The Best Tequila Sunrise Cocktail
There's something undeniably captivating about the Tequila Sunrise cocktail.
The vibrant colors and refreshing taste make it a go-to choice for cocktail enthusiasts everywhere.
If you are a fan of summer cocktails like the Sex On The Beach Cocktail or the Bay Breeze, then this Tequila Sunrise recipe has to be on your must-drink list.
With its origins dating back to the 1930s, this classic cocktail has stood the test of time and continues to delight taste buds with its unique blend of flavors.
Tequila Sunrise Ingredients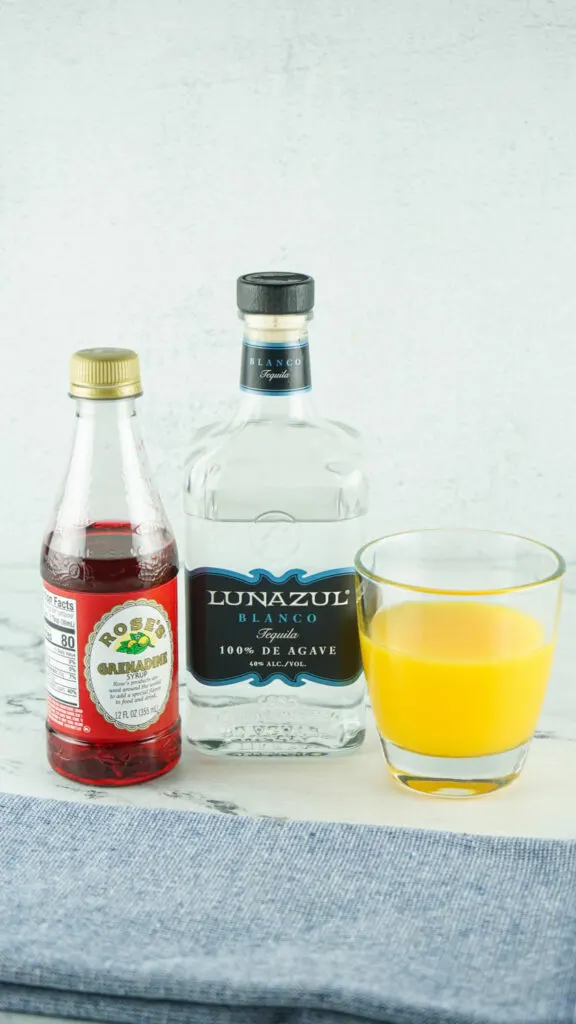 If you are a fan of the classic Vodka Sunrise cocktail but prefer tequila, then you will love this delicious recipe.
It is so easy to make and one of my favorite Sundowner Cocktails.
And if you love the pretty sunrise effect, make sure to also check out my Mimosa Sunrise Recipe.
For the full ingredients and instructions, scroll down to my printable recipe card at the bottom of this page.
As far as special equipment goes, you don't need anything more than a spoon for pouring.
Here are the ingredients you need for this delicious drink:
Tequila
Fresh orange juice
Grenadine
Ice cubes
Orange slice and maraschino cherry for garnish
How To Make A Tequila Sunrise
Fill a highball glass with ice cubes. This size of glass allows the colors to blend beautifully.
Pour the tequila over the ice, ensuring that it evenly distributes.
Slowly pour the fresh orange juice into the glass. The orange juice will sink to the bottom, creating the base of the sunrise effect.
Gently pour the grenadine syrup over the back of a spoon into the glass. This technique helps the grenadine sink slowly through the orange juice, creating the iconic sunrise effect.
Allow the grenadine to settle for a few moments, and then gently stir the cocktail to mix the flavors slightly.
Garnish your Tequila Sunrise with an orange slice and maraschino cherry for an extra touch of elegance.
Serve immediately and enjoy the visual delight before stirring further to mix the flavors entirely.
Tips For The Perfect Tequila Sunrise
Opt for a high-quality tequila that is 100% agave, as it will significantly enhance the taste of your Tequila Sunrise.
Use freshly squeezed orange juice for the best flavor. It provides a natural sweetness and tanginess that enhances the overall experience.
When pouring the grenadine, be patient and pour it slowly over the back of a spoon. This technique ensures a gradual sinking effect, creating a stunning sunrise gradient in your cocktail.
If you have a larger glass, you'll want to add about ½ an ounce of grenadine instead and another 2 ounces of orange juice.
I know the layered colors are really pretty, but you'll definitely want to give your drink a stir before diving in.
Is there a more beautiful, summery drink than the classic Tequila Sunrise cocktail? It is so easy to make and perfect for any tequila-lovers on your guest list!
Ingredients
2 oz Tequila
4 oz orange juice
1/2 oz grenadine syrup
Ice
Maraschino Cherries
Orange or pineapple for garnish
Instructions
Add ice to a large glass
Pour the tequila over the ice
Add the orange juice
Slowly pour the grenadine over the orange
Add a fruit slice and cherries for garnish (optional)
Stire before drinking
Notes
To get the beautiful "sunrise" effect, pour the grenadine over very slowly.
Use Agave tequila for the best tasting sunrise cocktail